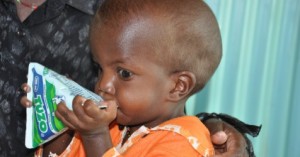 For children like Janet, were it not for a ready to use therapeutic food known as Plumpy'nut, a peanut like paste fortified with proteins and vitamins, they probably would not be alive today. Janet has been battling acute malnutrition, but now she is out of danger and still recovering steadily, except for her underlying illness she that makes her more susceptible to malnutrition and other illnesses. Her mother, Esther says, the Plumpy'nut saved her life, without food at home-it is Janet's only source of hope.
— February 3, 2012  |  Turkana Central —
In March, 2011, 10-month-old Janet Aroo was admitted to an outpatient therapeutic programme (OTP) supported by World Vision, with severe malnutrition. The referral for admission was also made by World Vision nutrition staff. At 10 months, Janet weighed a mere five kilograms (11 pounds). The average weight of a 10n-months-old baby that is well-fed is 9.5 kilograms (20 pounds).
The nurses established that Janet was underweight. The baby girl was immediately admitted to the Plumpy'nut feeding programme supported by World Vision.
Six months later, Janet has recorded some visible tremendous improvements, her mother Esther Ngamon explains further.
"Janet's weight has improved significantly, she is out of danger she was very light when she was first taken ill, she looked tired and frail all the time, she did not have an appetite for anything and all she did was cry," Esther says. "This Plumpy'nut has really boosted her weight and health, I do not know how she could be now, without this thing (referring to the Plumpy'nut)," Esther continues.
Janet now weighs 7.4 kilograms (16 pounds) and according to Leah -a World Vision nurse who has been monitoring her progress, Janet would have been out of the OTP programme already, were it not for an underlying illness she has.
"Due to the illness she has -that she was born with- Janet's weight keeps fluctuating. The illness makes her more susceptible to malnutrition, the reason she is still in programme," Leah says.
Janet has a condition known as hydrocephalus also known as water in the brain. It is a medical condition in which there is an abnormal accumulation of cerebrospinal fluid (CSF) in the ventricles, or cavities, of the brain.
This may cause increased intracranial pressure inside the skull and progressive enlargement of the head, convulsion, tunnel vision, and mental disability. Hydrocephalus can also cause death.
Some of the early symptoms of the illness are vomiting, slow growth, slow or restricted movement, trouble walking-signs that have already been seen in Janet. As a result of this condition, Janet is unlike normal children her age has not begun to crawl, stand or walk. However Janet's mother is hopeful, "I believe she will begin to walk one day."
This medical challenge aside, Janet is a very jovial child, occasionally uttering words like 'mama' and 'hiyo' (Swahili for that).
However, Leah underscores the pivotal role the Plumpy'nut -a paste, fortified with proteins and vitamins used to manage malnutrition at the Outpatient Therapeutic Program (OTP- plays in managing acute malnutrition.
"This peanut paste is a life savior. Children like Janet are at a high risk of mortality or related illnesses and therefore therapeutic feeding is critical to save lives," Leah explains. Janet's mother Esther strongly agrees. "I am very happy and relieved to see that the health of my baby has improved," Esther says.
"Janet can utter a few words here and there with her mother or people around her, she can hold things and even play with them, something she never did before," her mother says.
Janet's appetite has also tremendously improved, now Janet feeds on porridge and even breastfeeds without seeming irritated.
But food still remains a very big challenge in Esther's household. Sometimes even porridge is hard to come by. "When we lack food, all my family can eat is boiled wild fruits. When I later breastfeed my child, she begins to diarrhoea."
"The wild fruits are not nutritious, and most of the time, Janet is attacked by diarrhoea, this also makes Janet an easy target for malnutrition," the mother of six children laments. "If my family had a permanent source of food, my child could be out of programme now," Esther confidently says. She lists fruits as part of the diet that her daughter is seriously missing.
"The biggest challenge in managing the malnutrition in children is lack of food back at home," Leah says (explaining the reason why children like Janet are still in programme).
Meanwhile, Janet continues to feed on Plumpy'nut, with 21 sachets to last her seven days after which her mother will return to the dispensary for replenishing.
"Plumpy'nut is like the only food my baby has. My child has been eating the Plumpy'nut and it has saved her life.It is the only nutritious food available to her now-she is assured of this nutritious meal (three sachets a day) three times a day, morning, lunch time and evening. With water and her dose of the Plumpy'nut she is good to go until the following day," Esther says.
Esther and her household ekes a living out of weaving baskets or sometimes burning charcoal-not very reliable sources of income she admits- while her husband is unemployed. Janet condition requires an operation to suck the fluid out of her head, but with less financial options, Esther is left helpless.
Referrals have been made for Janet to get medical assistance in the advance hospitals, perhaps in Nairobi (Kenya's capital city), but Esther faces financial constraints. "All in all, I am very grateful for the paste that continues to keep Janet alive," she ends.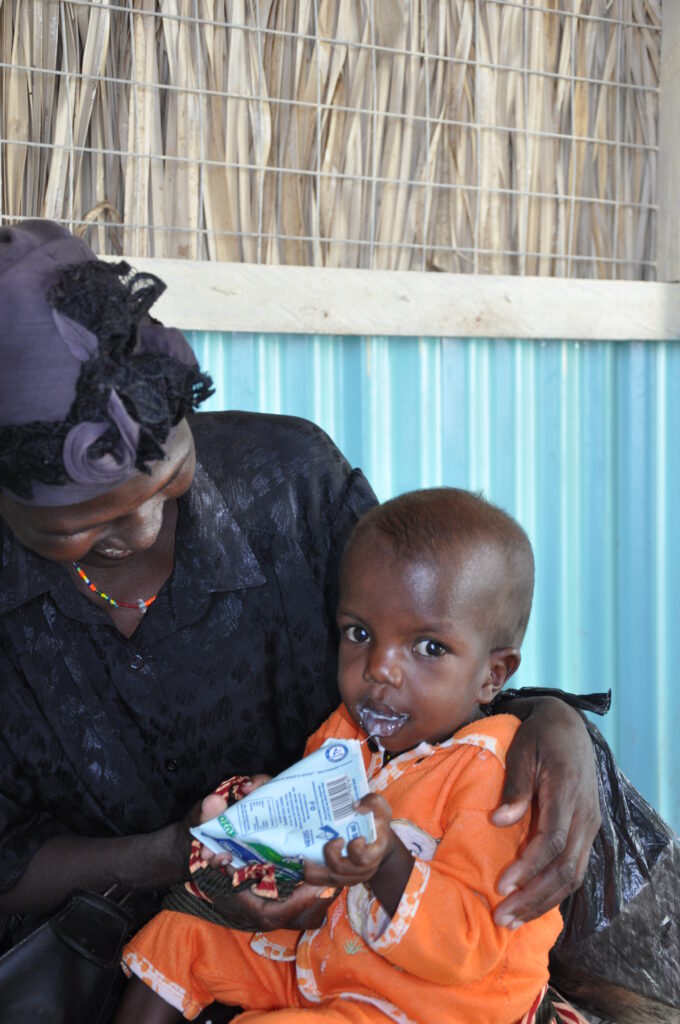 Editor's notes:
(More information on hydrocephalus extracted from the online encyclopedia-Wikipedia).